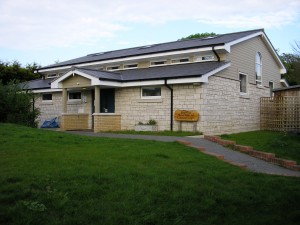 Our new HQ was opened in 2003 and has the following facilities –
Large hall, with underfloor heating
Toilets, 2 showers (including disabled)
Fully equipped kitchen
Bunk rooms (2-bed, 4-bed, 6-bed) – additional sleeping on the hall floor. Screens are available for division of the hall.
Wifi
Although we have a small area of grass outside it is not available for camping due to the site being in a conservation area and also having close neighbours.
The HQ is used for a wide variety of functions such as yoga, arts and crafts, zumba, meetings of organisations, children's parties, etc.
We regret that discos and events with lots of alcohol (e.g. stag parties) are not permitted. Planning conditions impose a 10.00 p.m.cut-off for any amplified music.
To hire our HQ for a session, all day or weekend please fill in the form below or contact our bookings secretary, Paul Medland, on 01983 740892